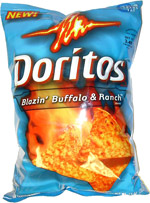 By Guest Columnist A Bag Of Blazin' Buffalo & Ranch Doritos
SWEET JESUS YOU LOOK LIKE YOU COULD USE A BREAK FROM ALL THAT SAME-OLD BORING REAL LIFE STUFF YOU'RE SO CAUGHT UP WITH. SEEMS LIKE IT'S JUST ABOUT TIME YOU HIT THE DUSTY DORITOS TRAIL ON DOWN TO A BAG OF BLAZIN' BUFFALO & RANCH. I'M TALKIN' REAL CRUNCHTASTICAL FLAV-SPLOSIONS OF INTENSE BUFFALO WING AND TANGY BLUE CHEESE CURDS. MIGHT AS WELL DOWN A WHOLE BAG OF THIS SHIT, YOU KNOW YOU'RE UP TO THE TASK. AFTER ALL, IF YOU'RE NOT TOTALLY CRUNCHMITTED TO THE TASK, YOU MIGHT AS WELL TAKE THE SOY-TRAIN BACK TO LETTUCE TOWN CUZ THIS HERE IS BLAZIN' HOT WING CENTRAL.
YOU SEEM LIKE THE KINDA GUY WHO WALKS THE LINE BETWEEN DANGER AND DELICIOUS CHEESE FLAVORING. MAYBE IT'S TIME TO PROVE YOUR SNACKVOTION BY POUNDIN' DOWN A COUPLE ROUNDS OF INTENSE BUFFALO-FLAVOR-POWDERS COATING THESE GENUINE TORTILLA HUSKS. YES SIR, YOU'RE X-TREME ENUFF TO TAKE A CHANCE, SO LONG AS THERE'S SPICY TANG-BASED FLAVORING INVOLVED.
YOU'RE A ROGUE. A FIRESTARTER. UP FOR ANYTHING. YOU COULD GET AWAY WITH MURDER. YOU WILL GET AWAY WITH MURDER. YOU'LL DO IT FOR ME, AND YOU'LL MAKE A CLEAN GETAWAY. THEY WON'T EVER BE ABLE TO TIE IT TO YOU. IT'LL BE AS IF YOU NEVER EXISTED. AND THE TARGET IS QUITE SIMPLE, REALLY. IT'S YOUR NEIGHBORS. ALL OF THEM. I WANT YOU TO KILL ALL OF THEM. EVERYONE YOU SEE. ANYONE WHO TRIES TO STOP YOU. YOU'RE GOING TO KILL. AND YOU'RE NOT GOING TO STOP UNTIL THE STREETS RUN RED WITH THE BLOOD OF THE INNOCENT.
SO GRAB A BAG OF THESE FLAVOR-BLASTED CHIPS TODAY!
A Bag Of Blazin' Buffalo & Ranch Doritos is an inanimate bag of corn chips